GUARANTEE WHALE SIGHTINGS ON OUR 7 – 8 HOUR DAY TOUR!
Our Commitment to Sustainability
Throughout all of our operations we aim to minimize our environmental impact. Not only are our guides expert mariners, they are also certified naturalists whose love and ethical regard for marine wildlife is always evident. We believe that education and showcasing responsible wildlife viewing behaviors are a key components of operating as a sustainable organization. In 2018 we were honoured to receive the Sustainability award from Tourism Vancouver Island.
Carbon Neutral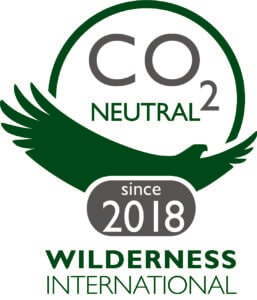 We are thrilled to announce that we are Carbon Neutral for the 2018 season! In partnership with Wilderness International, in 2018 we have protected 6848 m2 of pristine old-growth rainforest in British Columbia. Each square meter of rainforest holds 104.79 kilograms of CO2. We are offsetting our carbon footprint by 1.5x with a goal of reaching 2x by 2019. All of this is determined by an in-depth 2018 sustainability report (available below) which is a monumental achievement for a company with less than 20 employees.
Sustainable Tourism Canada

We are excited to be apart of the Sustainable Tourism Canada community! We currently hold a Silver ranking and are always looking at ways we can do better.  The following are some of our key initiatives that we do towards our Commitment to be Green:
At the start of our 2018 season we switched our office over to an online booking platform as a major step towards making our operations paper free. The paper we do use is Earth Choice
We collect $1 from every guest who joins us onboard towards NIMMSA (North Island Marine Mammal Stewardship Association). This fund goes to support conservation and education in our area
We use phosphate free cleaning products
We have installed low flow toilets
All of our lunches are made by our local Snack Shack, and packaged in reusable containers and thermoses
We have switched over to a cartridge free printer
All of our boats are well maintained, and updated regularly ensuring they are fuel efficient